'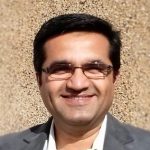 Salesforce.com CRM, Veeva CRM Digital Transformation Projects and Programme Management
In a nutshell
Business turnaround using Digital Transformation.
Availability
Fully Available Immediately
Location
Sutton, Surrey, United Kingdom
Skills
Interviewed By

HM Expert Since
Thursday August 30, 2018
About Rahul
UK based, we provide digital transformation using CRM as the catalyst platform.

➤ Large, Global Organisations:
With a strong technology background, he has led multi-country, large scale Digital Transformation engagements using Salesforce.com and Veeva platform(s).
email sales@mocafy.com

➤ Small companies:
Business turnaround using Digital Transformation tools and platform with no upfront cost to the customer. We recoup our investments as a small % of the growth profits.
email sales@smbcloudsupport.com

Industry experience:
✔ Life Sciences, Bio-Tech experience in UK & Europe (Astellas, Celgene)
✔ Pharma Post M&A integration of Sales force across EMEA (Merck & Schering Plough, Astra Zeneca acquisition of BMS/Bristol-Myers Squibb's Diabetes division)
✔ Retail (Sainsbury's, M&S, Dyson)
✔ Logistics (MaerskLine)
✔ Telecom (BT, O2)
✔ Media (Warner Bros.) and
✔ Banking/FS (Lloyds Banking, Abbey/Santander, Barclays)
✔ Oil & Gas, Utilities (BP, Shell)
Current Role Details
Independent IT, CRM Consultant (2015 – now) – Working with customers to deliver Digital Transformation using CRM, Salesforce.com platform.

Retail - Customer Contact Centre transformation using Salesforce.com Service Cloud, e-Commerce Integration.

Biotech – Digital transformation programme to deliver a harmonized platform for Field Reps to enable new product launch(es), using Salesforce.com, Veeva platforms

EMEA Pharma – CRM, CLM Project Manager to support Field activities using Veeva CRM and Salesforce.com platforms

Media - Multi-Channel digital transformation using Salesforce.com CRM platform

Telecom - B2B and B2C Multi-Channel Sales Transformation using Salesforce.com platform.
Rahul's Valuable Contributions
(Case Studies)
MERCK EU LEADERSHIP WANTED TO EXECUTE MCKINSEY'S STRATEGY (POST M&A INTEGRATION) (Reveal More OR View Full Page)

Situation
When Merck merged with Schering-Plough, McKinsey were engaged to define the strategy to realize synergies as a result of this merger. In EMEA, the task of implementing this post-merger Integration strategy was assigned to the Regional HO based Business Partner. I was engaged to support her on this assignment.

Task
I was tasked to initiate, plan and run a 3-day workshop to de-brief all 40+ EMEA IT countries on the Integration plan, timelines, scope of work, milestones and expected deliverables - creating mini project plan templates for Large, mid-size and small countries.

Thereafter, the task was to track and monitor the implement of post M&A Integration Strategy

Action
I created the implementation scope based on country specific parameters, aligned milestones across business units and created the strategy execution framework.

Then, I reached out to the countries and took their inputs on expected involvement and created a change framework.

This exercise helped me to create content for the 3-day workshop where I explained the roles and responsibilities assigned to country leads and updated them with the governance structure and communications cadence.

I assigned the regional data governance and remediation team, regional process approval group and an Architecture board to review and approve legacy-to-Cloud migration of all CRM and related applications.

Capabilities were mapped to target application modules and published with a migration path for most common sources.

I worked with end-user computing teams for migrating all users to Active Directory, data teams for migrating data from Data Centres being sunset, local and regional IT/Business teams for updating processes (SOP's) and training material.

Vendor resources, Internal teams and 3rd parties were able to collaborate with the right Business Units based on the capabilities being migrated over.



Results
The Integration completed on time and within budget. We were able to on-board all countries on the new Cloud CRM platform.

The end-result was the realization of M&A synergies which were reported in the company annual investor updates.



---
MAERSKLINE WANTED TO INCREASE SALES & PROFITABILITY (Reveal More OR View Full Page)

Situation
The global logistics and supply chain client was losing business because they were not able to provide competitive quotes, optimally utilize freight capacity or exchange booking information across sales, operations and channel partners.

Containers and eventually ships were being loaded with little or no pricing intelligence.

Task
The task was to create a single customer facing platform that would integrate all back-end systems with front office operations to help deal with business demand in real time and make freight pricing transparent and profitable.

The sub-tasks were to identify best-fit CRM platform, prepare an integration plan to connect various applications with Salesforce.com that were required to present an intelligent quote, identify data to be migrated and transform the way Sales teams operated.

Action
A series of workshops were conducted to establish the baseline and target operating model(s). This also helped understand the change management required to deliver a Salesforce.com engagement of this size (to over 100+ countries)

The right team size and resources were identified to carry out Business Analysis, Integration, Data migration, Design & Development, Testing and Deployment planned over a period of 12 months.

The project governance was put in place and I managed the various teams (internal, client and 3rd parties) to track and monitor the deliverables along the timelines, engage stakeholders to address risks and resolve issues, kept the business engaged informed and the communication channels open for Sales teams to provide their continuous feedback throughout the iterative and agile delivery.

Results
The first set of end-to-end capability was released on time and within budget allowing Sales teams to quote based on direction load factors, availability of cargo space, time and criticality of shipments and pricing based on customer related contractual agreements.

The final set of automated processes were rolled out in waves to various regions and support was streamlined to demonstrate the newly gained efficiencies reducing the time to quote from days to minutes and increasing the profitability by 50% on some routes.

---
Roles & Results
---
---
---
---
---
---
Articles
Brexit - Opportunity knocks!
If you (or your client) are a young and dynamic UK based business and worried about the impact of Brexit...
Healthcare disruption begins…
.. as Amazon, Berkshire Hathaway and JP Morgan Chase come together in an Industry first to tackle soaring healthcare costs...