In a nutshell
I help bridge the gap between IT and the rest of the business.
X

Availability
Partly Available Immediately
X

Location
Woking, United Kingdom
X

Skills
business architecture
Business Capability Modelling
change management
CIO
customer experience
IT Strategic Planning
IT Transformation
Organisational Development
TOM (Target Operating Model)
X

Nominated by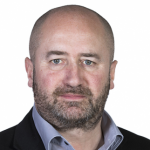 Dave Jones
HM Expert since
Wednesday December 12, 2018
About
I am a results driven, commercially focused, interim 'C' Level technology leader, with 25 years' experience designing & delivering technology enabled transformation programmes in global organisations.
An 'excellence' advocate, my working life began in 'real' engineering, before moving on to operations and IT leadership. Executive life culminated as the CIO / Board Director of a highly respected and successful global engineering organisation.
More recently I have established transforming it , an interim consulting & advisory business focused on IT strategy, operating model and organisation design, with a passion for collaborative working, IT service improvement and business partnering. My innovative approach to technology management is built on the application of systems thinking, operational excellence and customer experience.
Outside work I enjoy running (when not broken!), cycling, Northern Spain and rare soul music.
X

Current role details
Advising the CIO & IT Leadership Team of the £7BN T/O Retail & Institutional Annuities Division of a FTSE 50; the division delivers more than 50% of the Groups' annual profit and supports in excess over 1,000,000 retail pension customers.
Following an intense 2-year period of rapid insourcing and growth for the IT function, I was engaged to review the current IT strategy, operating model and effectiveness and help position the organisation to better meet future demand.
Specific emphasis is on accelerating change, driving technology enabled innovation and value management, underpinned by the creation of a strategic business relationship management function.
X

X
Add / Edit Roles & Results
Services Adrian Delivers

HiveExec for Business Architects
(Reveal More

OR View Full Page)
Summary
This service focuses on accelerating success for leaders responsible for Business Architecture
Industry Experience
Aerospace and Defence
Business Services
Engineering and Construction
Financial Services
Forest, Paper and Packaging
Manufacturing
Oil and Gas
Transport and Logistics
regional Experience
Europe
North America
Oceania
X
HiveRank History Log
| HiveRank | Description | Time |
| --- | --- | --- |
| 1 | HiveRank Bump for your Daily Visit | 7 hours |
| 1 | HiveRank Bump for your Daily Visit | 1 day |
| 1 | HiveRank Bump for your Daily Visit | 3 days |
| 1 | HiveRank Bump for your Daily Visit | 4 days |
| 52 | Client deliveries booked: 2021-05-06 | 5 days |
| 1 | HiveRank Bump for your Daily Visit | 6 days |
| 1 | HiveRank Bump for your Daily Visit | 7 days |
| 1 | HiveRank Bump for your Daily Visit | 2 weeks |
| 1 | HiveRank Bump for your Daily Visit | 2 weeks |
| 1 | HiveRank Bump for your Daily Visit | 3 weeks |
| 1 | HiveRank Bump for your Daily Visit | 4 weeks |
| 100 | HiveRank for contribution to customer satisfaction survey: Survey_125338 on 14-04-2021 | 4 weeks |
| 1 | HiveRank Bump for your Daily Visit | 4 weeks |
| 1 | HiveRank Bump for your Daily Visit | 4 weeks |
| 1 | HiveRank Bump for your Daily Visit | 4 weeks |
| 1 | HiveRank Bump for your Daily Visit | 1 month |
| 54 | Client deliveries booked: 2021-04-08 | 1 month |
| 1 | HiveRank Bump for your Daily Visit | 1 month |
| 1 | HiveRank Bump for your Daily Visit | 1 month |
| 1 | HiveRank Bump for your Daily Visit | 1 month |
| 1 | HiveRank Bump for your Daily Visit | 1 month |
| 1 | HiveRank Bump for your Daily Visit | 1 month |
| 1 | HiveRank Bump for your Daily Visit | 1 month |
| 1 | HiveRank Bump for your Daily Visit | 1 month |
| 1 | HiveRank Bump for your Daily Visit | 2 months |
| HiveRank | Description | Time |
1
2
3
…
7
Next »