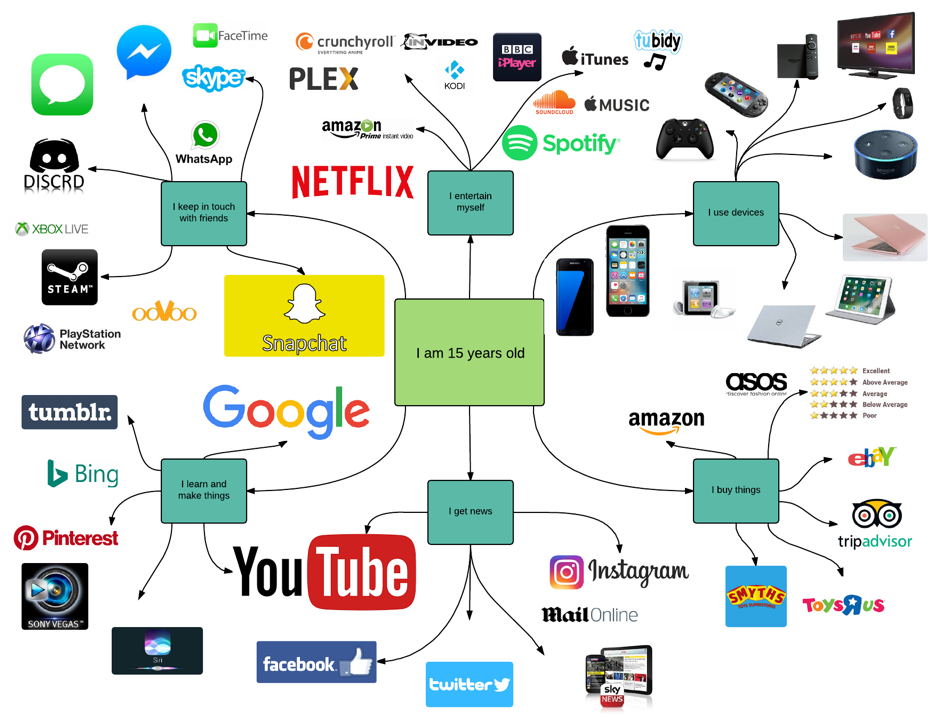 Thanks to students at Longfield Academy in Melton Mobray who helped us grapple with a vital question – "How does Generation Z use technology to engage in the world? How is this 'normal' shaping their assumptions about the digital experience they will have as students, citizens and employees?"
Our Universities and others need to understand Generation Z a little better – those born around or after 2000. These young people were born into the digital age and have lived with technology as a deeply embedded part of life. These life experiences have already defined what they perceive as 'normal'. Unconsciously, they have made certain assumptions about how they will engage with learning and life at University. We need to be ready to engage with them in a way that makes sense to them.
To this end, we spent an enjoyable afternoon with 20 engaged and enthusiastic 15 year olds who were keen to tell us about the devices, apps and digital resources they use. We asked them to talk about how they use these technologies in various aspects of life – to keep in touch with friends, learn and make things, entertain themselves, get news, choose and buy things.
We started by asking them to call out what they use and built the group mind map above. Key observations from this part of the exercise were:
All the students used smart phones every day as their primary device
Most also regularly used other devices such as laptops, tablets and gaming consoles
Netflix, YouTube and Amazon were the major content providers
YouTube, Snapchat, Google, and Instagram all appeared prominently in multiple contexts and were used for many purposes – to socialise, consume content, gather news, do research etc.
Facebook and WhatsApp were considered niche and mainly for parents. Facebook is a video platform. Mum uses WhatsApp for sharing pictures with Granny.
Multi-player gaming created a complete and highly sociable world for some (and not just boys)
There were some sophisticated digital makers in the group running their own YouTube channels
We then split the group into three and had some more detailed discussions. Here are the key messages – what they said and how we need to respond if we want to be ready for Generation Z..
1) They said "We want it now"
Digital channels provide immediate social connection; immediate access to information; immediate access to entertainment; immediate service fulfillment. These young people do not expect to wait for things.
So we must:
Provide access 'anytime, anywhere'
2) They said "We love our smart phones"
These young people use a constellation of devices but their smart phones sit at the centre.
So we must:
Provide access from any device but deliver for mobile first
3) They said "We still love analogue"
These young people enjoy shopping on the high street and reading books. They often choose these and other non-digital approaches.
So we must
Incorporate digital rather than replace analogue
Provide joined up, seamless and equivalent service across all digital and face to face channels
4) They said "Being sociable = being online"
Social networks play an essential role in life. These young people find it hard to imagine a fulfilling existence which does not depend on social networking tools. They are fearful of the social disconnection which comes with poor WiFi coverage or a power cut.
So we must:
Provide WiFi as a basic human need
Learn to be part of the social media conversations that underpin our communities. These support its patchwork of relationships and enable collaboration in vital ways. We can't afford for anyone to be excluded from these conversations. Collaboration is the engine of innovation and this is what we are here to do.  
5) They said "We like to watch it, not read it"
Video is the preferred medium. These young people find it fast, convenient and effective to absorb information and ideas this way.
So we must:
Be video makers as well as writers if we have a message to deliver, or ideas to impart
6) They said "We follow the personal recommendation trail"
These young people are happy to follow the machine recommendations that point them forward to the next film on Netflix or the next article on Mail Online. Without these personalised signposts the world's information sources appear vast and impenetrable. Generation Z is used to an environment that learns from their behaviours, predicts and meets their needs.
By default, they use Amazon, Google, YouTube and Mail Online because 'everything is there'.
So we must:
Treat young people as individuals and learn how to use big data and analytics to provide an environment which feels personal and responds proactively to their needs. 
Know how to exploit machine learning algorithms to help young people navigate the world's vast information sources and achieve their goals.   
Help young people be discerning and critical as they challenge the provenance, authenticity and balance of information sources.
7) They said " We are happy to share data"
These young people are happy to use social sign on. They seem unaware that the cost of the resulting, highly personalised online experience is a great deal of personal data sharing between apps.
So we must:
Provide balanced information about the risks and benefits of data sharing as part of our digital literacy programmes.
8) They said "We trust and choose the brands we know"
These young people can be overwhelmed by choice. In this environment, they rely heavily on brand reputation and the endorsements of those they trust.
But brand reputation is a fickle currency. Poor reviews may appear at any time and in any channel. Negative sentiments can propagate virally and be highly influential. This cannot be controlled.
So we must:
Excel at using sophisticated marketing and campaign management tools if we want to grab the attention of potential students, collaborators and employees. Otherwise our positive messages will not reach them.
Listen, respond and protect the way our brand is expressed and experienced across all digital media with determination and dynamism.
9) They said "Adults need help"
These young people are generally unimpressed by the way their parents and other older people use technology. They think they are narrowly focused on online shopping and apps such as Facebook and WhatsApp. They are often obliged to help their parents.
So we must:
Be active in promoting digital literacy and the confidence of all our staff as they adopt and adapt to the constantly changing digital environment.
Employ young people as mentors and 'digital tour guides'
Mary Visser, Sue Platt, Andrew Ward and Nick Fensenko