It was a surprise to me, when discussing business strategy with a UK leading Grocer, that their biggest challenger wasn't another major supermarket brand, but in fact Amazon. Of course, once I had been told why, my slow to illuminate light bulb came on and I realised how this really does make sense. Amazon has built up a wealth of intelligence around our personal information, our buying preferences and life journeys. Their supply chain logistics runs like a well-oiled machine and they are the number one business in e-commerce and home delivery. And then, in February this year they announced "Amazon now selling fresh and frozen food".    A new dot on the Supermarket magic quadrant appeared.
Another recent and exciting disruptor is Tesla Motors. Tesla cars are the new innovators in the automotive industry yet they see themselves more as a tech and energy business. If you haven't seen their cars yet – check them out and let me know if you too think that the dashboard is actually just a giant iPad? It may then come as no surprise that Tesla Motors are recruiting designers and technologist from Apple to delivery their technology vision. These cars really make me wonder how much they will challenge the automotive and oil industry.
There are many examples of disruption that you will know yourselves. You have all probably seen the slide image from IBM titled 'Digital Disruption has already happened', with its list of recent disruptors, but one thing is for certain, there will be more.  What's uncertain is, what will it be, how soon will it happen and in which industry sectors will it disrupt the most?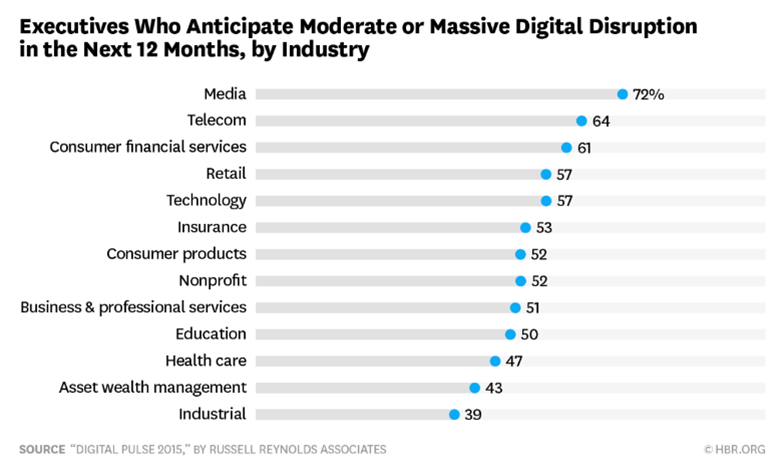 So how prepared are you for the unexpected and what can you do to safe guard your future?
Being at the forefront of innovation and being the disruptor not the disrupted, are of course great strategies but for every business there is always the risk of the unknown competition. So to address the anticipated disruption, a business must be prepared to respond and to respond effectively or face losing market share or worse still, be kodaked.
As the Pulse Survey above suggests, most businesses continue to operate in a very volatile and fluid marketplace and as a consequence their business strategy teams are constantly revising their customer propositions, business models, products and services. But it doesn't stop there. If the business model is fluid then the operating model that serves the business model must also be fluid. To constantly adjust your business and operating model is very complex, especially if you don't fully understand how all the interconnecting parts all operate together. So how can a business be assured that as they assess change, they know exactly what parts of the operating model will be affected?
For your business to be responsive and prepared to adjust constantly, it is essential to have an explicit understanding of your operating model by using a solid framework that can accommodate a fluid environment. Creating and using a Business Capability framework is the solid backbone of this responsiveness. Using Business Capabilities as your structure of knowledge, pulls together the explicit alignment of all the key ingredients that work together collectively to make up your operating model. The overall knowledge and explicit relationship between your customer expectations, your business model and your operating model is your business architecture.
Defining your business architecture is an essential asset for you to be able to drive your own innovations and more critically to effectively respond to threat. As we continue to operate in an environment where industry sectors are more frequently innovating, with new entrants and surprise challengers, your business, more so than ever, needs to have the knowledge and power of its business architecture to survive and grow.
For further information please connect with me.