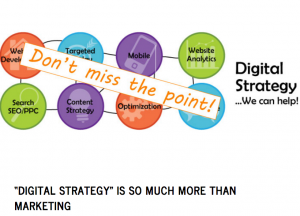 Australia's transitioning economy and the myth of digital disruption is a (rather dry) article which does a good job of highlighting what I think is wrong with looking at digital strategy as digital sales and marketing.
It may well be true that "by 2012-13, only 30.2% of Australian businesses took orders via the internet and these were disproportionately in the areas of information and media technology, wholesale trade and manufacturing. Agriculture, forestry and fishing; finance and insurance and health and social assistance were relatively untouched, with only one in five businesses taking internet orders"
They missed the point and this only serves to highlight that digital is so much more than just "Online shopping".
Too many people seem to focus on digital disruption as marketing campaign, a website, a mobile device, Facebook, Twitter. Many see it as a way of connecting to your customers and marketing to them.
According to a recent MCA survey, 94% of UK senior executives see digital as important or very important to their business. I wonder what the other 6% are thinking. 93% of them say they understand digital very well. And yet, when pressed on what digital means, they each described it very differently. Often in terms of marketing.
Very interesting stuff but, as the original article points out, digital marketing is not for all markets, nor for all companies.
This morning there was an article about the growth of the Chief Digital Officer role. Good for them! I am all for making digital connections to customers more effective. But it is not for everyone. "Only 30.2%…etc.
To me the important facet of digital in terms of disruption is that it brings with it new market forces and new ways of doing business. New business models are available to just about every industry. Think of Freemium, ink cartridges as a service, being a platform rather than owning assets. The banks are hoovering up ideas to save themselves from wholesale disruption: disruption so pervasive it has a name fintech.
To me the term digital disruption is so often associated with to-day's marketing activity. Important as that is, what I think is more relevant is the disruption brought about by this time of massive change.
These changes are driven by the confluence of vectors of disruption, technological and social, such as the growth of interconnectedness, possibilities for data collection and use, customisation/personalisation and the blockchain, to mention just a few. These bring with them huge benefits for the people and companies that embrace rapid change but, sadly, avoidable disaster for those who reject that it will impact them.
There should be a focus on speeding up business strategy and making it more flexible in tune with digital and in time to ride the wave of technology and disruptive change that it is bringing.
Former Telstra chief and long term an IBM executive David Thodey said this week "I have been in the industry for 40 years and seen a lot of change, but the greatest rate of change has been in the last two years.
Don't wait for RetailTech, Foodtech, TravelTech to become an accepted market imperative; by then it will be too late. There are new business models out there to exploit. Learn about them, adapt them use them.
As they say: If you don't, can't, or won't do it, someone else will so rapidly to could drive you out of business, as it will many banks!
The post Digital Strategy is so much more than marketing appeared first on Manage Disruption.