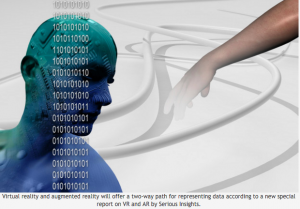 Virtual reality and augmented reality will offer a two-way path for representing data according to a new special report on VR and AR by Serious Insights.
The future is coming and it is either virtual, augmented or both. In this new special report on VR and AR written by Serious Insights Principal Analyst Daniel W. Rasmus, we explore what virtual reality and augmented reality mean to business, what business needs to do to get ready, what developers must do to deliver value, and how the technologies might be used in a variety of industries.
The report also makes some basic forecasts about potential shipments and offers answers to the most asked questions about the industry.
Virtual reality and augmented reality will change the way we do business. They will make data more intimate, create new relationships between people and computing, and challenge existing assumptions about the metaphors use use to interact with our technology every day, says Rasmus.
In addition, Rasmus explores the uncertainties related to virtual reality and augmented reality and offers set of scenarios on how the market, and the world, may look ing 2025.
We aren't trying to predict, just to challenge assumptions. We need to throttle the hype, look for real solutions and recognize that their is a lot of learning ahead, for individuals, for society, business and for law makers. It's OK to be optimistic, but the AR and VR markets should avoid believing their own hype. The destiny of the market will be impacted by many factors. Hard work and clever technology won't be enough, but it is a good start.
The report can be downloaded here, starting on October 28th at 2:30pm, Pacific Time.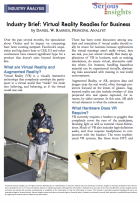 For questions about the report, or to schedule an interview with its author, send an e-mail to info@seriousinsights.net.
The post Special Report on VR and AR Says They are Ready for Business appeared first on Serious Insights.