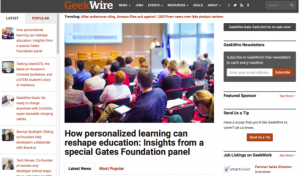 How personalised learning can reshape education
Buy the textbook. Attend lectures. Take tests. Get graded on a curve. This is the way most people remember their college or university learning experience. Learners, however, are a diverse group, with a wide range of personal histories, different approaches to learning, and varying degrees of technological savvy.
Engaging todays students with yesterdays methods creates tension among many learner populations, where many traditional approaches to learning prove unappealing. Combine modern economic and social issues, and traditional learning looks out of sync with reality. Rather than slog through lectures, dry reading assignments and long-form essays that don't seem relevant to their life experience, many students simply leave school.
The students who don't complete college, but want to continue to learn, potentially join the ranks of non-traditional students: working adults seeking to learn new skills, part-time students with a desire to complete degrees later in life, many of whom hold down jobs and raise children while taking classes even those without a high-school diploma.
High-achieving students also have an issue: The pace can be too slow, selections too narrow, and learning experiences too mundane or seemingly irrelevant to what they need to know.
How, then, does education meet these students where they are? Not where they want them to be, or where educational systems is comfortable delivering learning experiences. One answer: personalised learning.
At Bill & Melinda Gates Foundation U.S. Education Learning Forum, I facilitated the personalised learning breakout, an event to reflect on the status of improving learning during the Gates Foundations 15th year. I was joined by Chris Bustamante, President of Rio Salado College; Nivine Megahed, President of National Louis University; and Jean Floten, Chancellor of Western Governors University (WGU), Washington. All the panelists served primarily non-traditional students with mostly non-traditional faculty employment models.


Read the entire article at GeekWire:Â How personalised learning can reshape education: Insights from a special Gates Foundation panel
The post Rasmus on GeekWire: How personalised learning can reshape education appeared first on Serious Insights.