Customer satisfaction on the high street seems to be pulling out of the destructive nose dive we've seen in the last 4 waves.
The July 2015 results from the UKCSI are out now and as in earlier posts, I've trawled the results and here is a summary for you.
The previous two years of decline seems to have now plateaued with the index rising by a meagre 0.2 from this survey wave to 76.2 overall (out of 100). Way down from the heady heights of 78.2 in January 2013.
194 companies received a score with 56 companies improving by 1 point or higher, with 86 companies registering a fall of 1 point or more.
Interestingly, the historically lowest performing sectors like public sector and utilities are up by at least 1 point in the last 12 months, whereas the higher performing sectors like retail food (-1.2), automotive (-1.4), leisure (-1.4) and services (-1) are down by at least 1 point in the last 6 months.
In terms of sectors, retail food is still top overall with Amazon the highest ranked company at 86.3. Retail food is second with Waitrose ( 84.5) and Tourism is third with Centre Parcs (82.1) taking pole.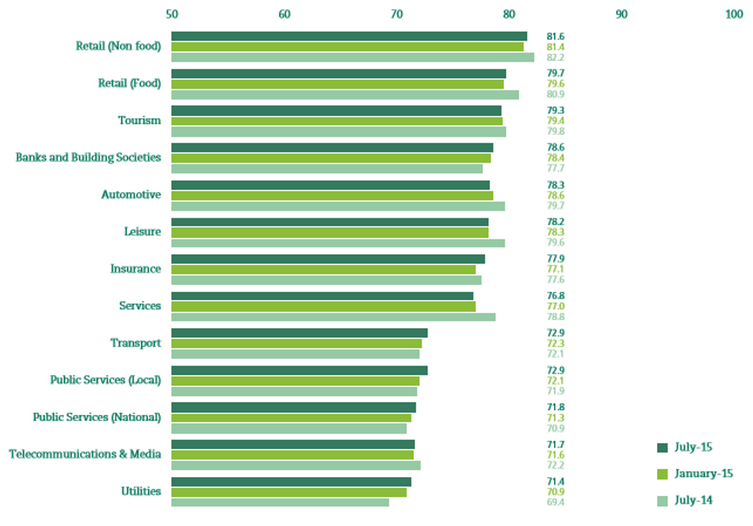 Variation within sector though is still vast, with public sector and travel showing a 21 point difference between highest and lowest performers.
Whilst the sectors included are still the same overall there's some noticeable new entrants signalling a change to established players who need to be wary and double their efforts if they want to keep their ground and not loose further gains.
Ovo energy tops the utilities sector, with Giff Gaff leading Telecomms and Media whilstLOVEfilm top the leisure sector. No surprise on the really latter given its acquisition by Amazon in 2011.
The usual suspects are still top of the table; first direct, Amazon and John Lewis, despite the latter two showing a decline in performance over the last 12 months down 1.3 and 1.5 respectively.
Again LOVEfilm have had a storming 12 months with the single biggest increase out of the top 50 companies, up a whopping 8.2 points year on year to take them up to fourth place overall.
Skoda is the only automotive company in the top 20 at 11th place (83.0 up 0.3), and Premier Inn is the only hotel chain in the top 50 (80.8 down 1.2).
Most improved, in addition to LOVEfilm are Ryanair (up 8.6 to 68.8) and Southeastern Trains (up 8.4 to 66.9).
Ease of doing business is a key driver to high levels of customer satisfaction and a differentiator between high and low performers. Most of the top 20 performers also rated highly on ease of doing business and low customer effort should be included by organisations looking to improve their overall customer experience.
So why does all this matter?
Well, the UKCSI has tracked the relationship for the last 3 years between customer satisfaction, sales growth and market share for food retailers, a very pressurised market for consumer spend and behaviour, where customer preferences quickly affect business performance.
The research show a strong correlation between customer satisfaction, growth and market share with organisations seeing a 5.5% increases in growth with a score of 1 point higher than the average, compared to a 1% reduction in growth with a mere 1 point performance below the UKCSI average.
According to the Kantar World panel, Aldi (7th in the UKCSI) lead the way with 15% annual growth follow by Lidl at 10% (outside the top 50) and below the sector average despite performing lower on satisfaction than Waitrose, Iceland and Asda.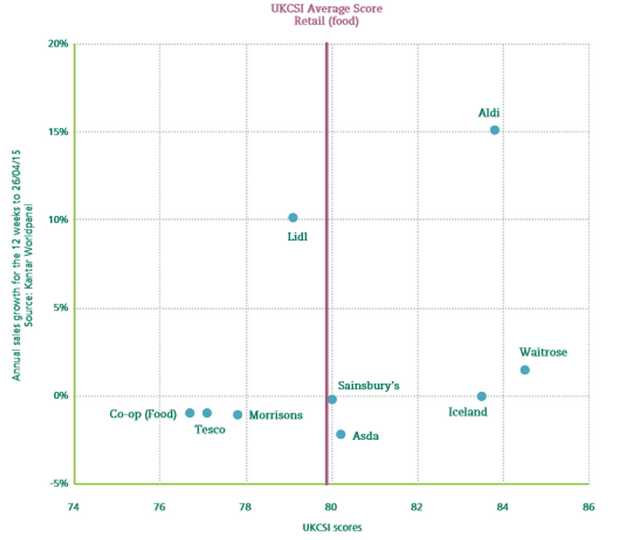 The July results further demonstrate and reinforce the view that we have firmly entered the relationship economy.
Customers giving an organisation a 9 or 10 out of 10 are much more likely to trust, recommend and stay with an organisation over those that score 8 showing that companies need to be both aiming and performing at the highest levels in order to keep customers in an era of rapid technology advances and disruptive new entrants to markets.
Organisations achieving scores of 9 or 10 achieve 96% loyalty compared to only 65% of companies getting scores of 8. In addition they achieve 55% of customer recommendation compared to only 39% of those that get an 8.
The biggest gap is around trust with 83% of customers trusting an organisation which they score 9 or 10 out of 10, compared to only 39% of customers who score an 8.
That's a massive difference that pushes the performance (and expectation) bar only higher.
Companies also need to address how they serve themillennial generation (born 1981-2004) who are the least satisfied generation and the only age group to have fallen year on year, even behind 18-24 year olds. Interestingly however, younger people appear to be more tolerant (and satisfied) when it comes to complaint handling.
The Welsh are most satisfied at 78, compared to the South East who are the least satisfied at 75.2. From a gender perspective, women are on average more satisfied than men, although this varies at sector level where for example in automotive, men are more satisfied, compared to utilities where it's women.
The volume of complaints expressed by customers are broadly the same year on year at 13.2% with some sector like utilities with lower satisfaction levels, experiencing a higher percentage of complaints at 14.9% compared to retail non food at 9.8% with telecoms at 22.2%.  However nearly a third of customers (26.9%) are 'silent suffers'  with the view that making a complaint won't make a difference.
The top 3 problems experienced by customers are;
Quality or reliability of good or services (30%)
Staff competence (25.9%)
Late delivery or slow service (25.1%)
A more alarming trend seems to be around escalation and compensation.  41.3% of customers who made a complaint needed to escalate it, up 3% year on year with 31.7% of customers asking for compensation up from 28.1% 12 months ago.
Complaint handling is both a hygiene factor and a differentiator and staff should be empowered and empathetic to meet the needs of customers to avoid damaging relationships and trust, which is difficult to recover.
It's clear from this latest set of results that customer expectation continues to rise at pace with competition with the pace of change intensifying. The relationship economy continues to be built on quality relationship with customers, and those organisations that see beyond the product and commodity view of the world and both meet and deliver on customer's psychological needs will continue to outperform and lead the way. However, this is a long term game and businesses should set their sights accordingly, whilst be flexible and adaptive to change. The 'agile' approach is the way forward for business and customers.