I reflect on my week from hell, as I travel to the CCA Convention for it's 20th year, to listen to some great speakers talking about the developments in Customer Contact and Customer Experience. I also think about what I will convey in my opening message at the session I am chairing – 'understanding your customer, to transform your business' – I do this whilst reflecting on the week I have just had.
Here are a couple of the interesting key headline messages – one from Ben Page at Ipsos Mori stating that research shows that 68% of consumers trust fellow consumers than Brands. A second from Brian Atkinson, Head of Customer Collaboration UK and Ireland at CISCO who said: "Simple, Agile and Consistent" are what customers are looking for. If you want to know more, then watch out for my blog following Convention.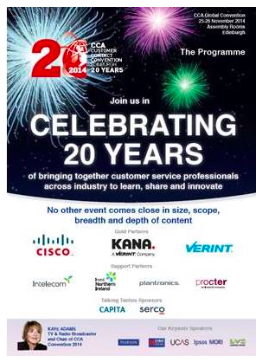 Picking up on Brian Atkinson's comments, I would like to state that Customers want – Simple, Empathetic and Work (just do what you say) please. I will tell you why …..
Having had the unfortunate incident recently of having my family home broken into with every possession worth taking being stolen, including my beloved car, handbags, and important documents such as passports, driving licences, computers, televisions, christmas presents and the list goes on and one. Following the incident on Sunday afternoon, I had the pleasure of contacting over 10 different companies, speaking to their contact centres, or having a visit from their employees eg. police, insurance assessors etc.
In a state of heightened stress, my husband and I just needed help. Having never been in this situation before, we were looking for guidance and support, ideally for this to be easy, stress free and for people to be empathetic. Some of the people we have spoke to were all of those along with, very understanding. However a little piece of advice on what the do next would have helped us in what has been the most traumatic week ever.
Here are my top 7 Customer Experience improvements for all the public sector, financial services, information services, telecoms businesses out there:
Answer the phone – the minimum wait time was 2 minutes to answer the worst 21 minutes! After waiting 21 minutes for our Home Insurance emergency contact line to answer on Sunday evening an hour after the break in, I asked why I had to wait so long on my mobile stood in the freezing cold, to be told that they were busy, no apology just that they were busy.
Link your systems (even with outsourcers) – to the same home insurance company, I explained that we had a window hanging off and French doors broken into and could they send someone out to make them secure, to be told that as their systems weren't linked and that they were the out of hours outsourcer I would have to pay the tradesmen and claim it back. I told the operator that all our debits cards, cheque books had been stolen at the start of the call. I told the operator to forget it and my husband ended up on the roof at 3am trying to secure our home. 24 minutes to get no help at all, the IVR could have told me that.

Tell me what to do next, we don't read small print

– after speaking with the very helpful team at the UK passport office, they answered reasonably quickly and then phoned us back to advise what to do next, but they missed out one vital piece of information. They should have told us that if you have had a new passport within the last 12 months you cannot use the same photo's. So having got the application form from the post office, getting a neighbour (who is a teacher) to sign everything, driving an hour to Liverpool for our appointment, we were then told "sorry we cannot use these photo's, you will have to get new ones and get them signed again", so another appointment had to be made. A whole day out of our diaries to get passports, which should have taken a couple of hours.
Do not keep transferring me – financial services companies appear to be the worst, out of all the companies I have had to contact. On Friday evening I noticed some potential fraud activities on my business bank account, I contacted the bank customer services line to be transferred to 4 different people, firstly to the business banking team (why don't they put that on their statements they send you), then to the online fraud team, then to the debit card team and then finally to the credit card team to stop all my cards. In total I was on the phone for 45 minutes, each time I was transferred I had to give all my secure details again – by the fourth time I had lost the will to live, at 9pm on a Friday evening. Please make it easy for every day transactions but more importantly for stressful situations, you are adding the customer's pain! This happened with all three of the banks I had to phone. Multi skill your people, sort your statement sign posting out, and stop ID&V every time you transfer, your IVR is enough, surely.
Ban any call scripts – welcome to XX you are speaking to XX how can I help you – I can tolerate that, quite a pleasant welcome, we are not really listening anyway – customers are thinking about what they want to say, once they have eventually got through. Please stop the standard scripts at the end of the call! Most are asking "is there anything else I can help you with today" as if we are suddenly going to think about a list of other things we might want. I am not blaming any contact centre advisors out there, they are doing a tough job and have been told to do this. The worst example of this was on two separate calls where I had explained the severity of the situation, in that we had everything we have worked hard for, stolen, including personal items of jewellery from relatives who are now longer with us and at the end of these calls were told to "have a nice day". The first time I was told this, I huffed to myself and ignored the message putting the phone down in disbelief. On the second occasion, I asked the operator what he had just said, he went to repeat it but the realized what he had said and apologized – we want people not robots! IVR and websites are the robots we deal with every day. When we phone, we want a human touch, not too much to ask.
Keep the customer informed – this one is linked to number 3, tell me what to do next or even better can you let me know what's happening. My car insurance company have been very helpful in terms of calling 3 times with 7 days to ask me for more information, this has given me an opportunity to ask what's next then. However a simple text or email to say they had receive all the documents and the service level for turnaround would have been a simple re-assuring act. My home insurance company were very quick to send an assessor round, but then silence – no updates. We phoned at day 5 (Friday) to be told to phone again on Monday (day 8), when I called them again and went through all our details, I was told that the 'end of that day' was their service level and that we should hear back from them the following day (day 9) – is this really Service when you have had a full scale robbery, including work laptop and printer (which we have now told them 3 times about and that we need these for our businesses). No the system says day 9 someone will call you back, I sit and wait in hope that we can replace all our possessions, including Christmas presents in time for Christmas.
Speed, at least a bit faster than slow – our replacement driving licences arrived within 2 days which is amazing, really easy service for £20 – well done DVLA! You should tell Financial Services business how to do this. One of the credit cards arrived within 4 days. All the rest – replacement bank log on, ID's, debit cards, credit cards etc. still haven't arrived and take 7-10 working days, despite the fact we cannot make any transactions nor have debit cards to withdraw any money. Surely it doesn't really need to take this long.
So it is not a surprise that we don't trust Brands, a Brand is what a Brand does, not what it's TV adverts tells you it does.
My experience of 10 Brands this week leave a lot to be desired, when I have a little spare time, whilst not battling through complex IVR's, being transferred, repeating myself over and over again, muttering to myself at the processes, policies and systems, having to photocopy documents and post them rather than scanning them in minutes, I will be emailing the CEO's of all the companies I have dealt with to describe to them the three components of Customer Experience (functional, accessible, emotional) and where they are failing on all three levels.
I will add two others Brands to that list, as I am typing this on a train with wifi that has worked for about 15% of the journey, and I have not been able to make a single phone call as the 3G (not had 4G at all) hasn't worked for the majority of the journey!
We just want things that Work, we want Simple and a little bit of Empathy (at least in stressful situations) please. We are simple creatures, I don't want WOW, I don't feel AWESOME (Virgin trains), Magic Moments are for visits to Disney land – I just want plain and simple SERVICE!