It was a very busy week last week. This wordle shows the topics / spread of discussion from various clients and activities I've been involved in.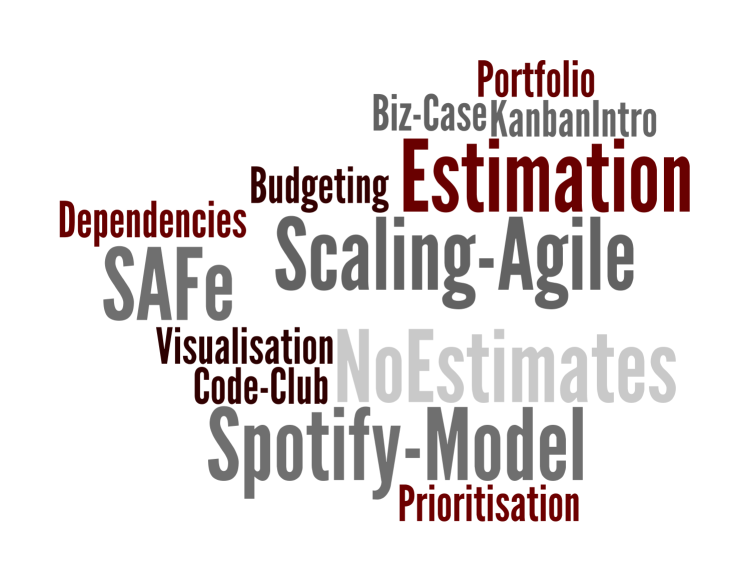 Spotify Model – this is appearing everywhere! What I'm seeing is orgs adopting the language and structures. Tribes, Squads, Chapters, Guilds. For me, what the Spotify Model represents is the shift from project based delivery to pipeline based delivery. However, a word of caution – make sure you understand what problem the Squads & Tribes model solves for you.
Estimates & #NoEstimates – We covered a lot of this in Lean Agile Manchester but there's still a lot of debate and discussion on various blogs. This post by Peter Kretzman caught my eye and is well worth a good read!
Scaling Agile – whilst chatting with Austen Bell in Leeds last week about Scaling Agile, he came up with an interesting view "is it better to look at scaling agile in terms of scaling-up or scaling-out?". I found this really useful as most of my clients are definitely in the space of scaling-out rather than scaling-up. One client has 27 delivery squads organised in 3 Tribes working on 7-10 products. Each squad varies in size but most are 6-12 people in each squad. They're all using a blend of Kanban, XP, tight feedback loops, and Continuous Delivery practices. Is this Agile at scale?
Managing Dependencies – one of the big problems of scaling agile is the increased dependencies across Tribes & Squads. Are these dependencies signals of a wider systemic problem or just something you need to deal with? I've developed a number of strategies for dealing with dependencies and solving problems by building mechanisms into card walls to deal with them. Watch this space for more details to follow!