The Harvard Business Review recently published an interesting article following research carried out by Peter Kriss of Medallia, exploring, and quantifying the value of customer experience. You can read this article here:
http://blogs.hbr.org/2014/08/the-value-of-customer-experience-quantified/
This is a helpful study. Any reliable data that quantifies the impact on a business of positive or negative customer experiences has to be a good thing.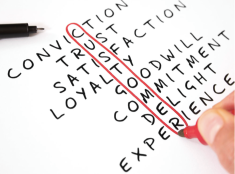 It's important to recognise though that "value" means different things to different organisations and the people who lead them.  Generic research is directionally insightful but is still open to challenge from sceptical stakeholders such as  "That's fine, but how does it affect our business?".   It means that those leading the customer agenda internally have an opportunity, and need to be able, to articulate the real value in its many forms for their own organisation.
It goes beyond "If we spend X on customer experience we'll see Y uplift in sales and Z on the bottom line". After all, if an organisation is seeking to increase its value by improving the customer experiences that will make its relationships less transactional, the same can apply to its decision-making; by looking beyond the pure "X for Y" exchange to consider other aspects of value from an activity or cultural change.
Earlier this year we wrote a white-paper on the subject, you can download this here:
"In its simplest form, our ROI – return on investment – will be the answer to "What do I get for my money?".  Forecasting the performance of one investment option against another makes for more effective decision making about what to spend money on and where to allocate resources.  What this report shows though, is that the real return on investment will go way beyond the predicted changes in sales, revenue and cost-savings.

The most significant return we see on an investment in customer experience is harder to quantify than an uplift in sales yet has much more impact.  It is the change in mindset to do more of the right things, the increase in employee pride for doing a better job and the strengthening of a brand that customers want, literally, to buy into."
 It complements the HBR and Medallia findings but, for example, asserts that customer experience thinking can – and should – show the cost of no investment and the specific commercial value of having the right culture.