WORK DIFFERENT
Find expertise, insight & talent to help power your company's success
Like minds, passionately focused on the creation of value and building smarter businesses.
Who We Are
HiveMind is a new type of professional service network. A network where world class business, technology and design experts and entrepreneurial micro-firms work together to help our clients adapt and prosper in a "digital" world.  To "Work Different".
Quick Overview
Our business model allows us to deliver client outcomes – at a lower cost.
How we work >
Our Values
Our values are the bedrock of the network. They underpin everything we do.
Why we're different >
Enabling Clients
Our clients want to make a difference. We help enable them.
What we do >
Enabling Experts
Our experts are the best in their chosen field. Our leadership model reflects this.
Expert Advantages >
What We Do
We're providing a fresh, new alternative to the old school models of management consulting, software delivery and resourcing.  We've achieved this by bringing together top business consultants, technologists and designers to enable our clients to succeed in today's fast moving and hyper- connected world.  The HiveMind Network supports our clients from strategy through to execution, helping them to achieve customer and operational excellence.
Our client members can engage with our consulting, coaching and resourcing capabilities on a stand alone basis or as a "Service Pathway" where all three capabilities are integrated to support your business outcome in either a flexible or fixed price model.
Our Current Service Pathways
Building an Innovation & Transformation capability

Unlocking Digital in the Boardroom

Modernising  your IT capability

Creating the High Performance Workplace

Exploiting your information pool

Designing customer driven services

Smart Business Architecture

Accelerating software delivery

Agile Procurement
Strategy & Marketing

People, place & performance

Service design

Business technology

Information Management

Supply chain & logistics

Governance & Commercial
Service Pathways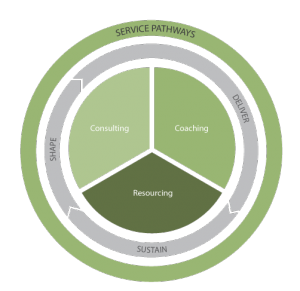 Who We Work With
What characterises our clients is not their size nor their industry.  It's an ambition and passion to work differently.  To look at challenges in a different way, to innovative, to create better ways of engaging and serving their customers, their colleagues and their stakeholders.
Our experts have assisted organisations such as MBNA, Moneysupermarket, Scotia Gas, Thinkmoney, ADP,  JCB, Wales and West,  Northern Gas Networks, Leeds City Council, and Belron (Autoglass)  to name but a few to help them innovate, drive successful change, resource critical initiatives and deliver key business outcomes.
We apply modern agile delivery techniques and thinking to all of our engagements which for our clients translates into faster, more sustainable results at a lower cost